The Group's beginnings: first steps in the family business
Before the creation of the eponymous group, Éric Duval took his first steps in 1978 within his family's construction company Maisons de Bretagne, based in Rennes. Passionate about his work, Éric Duval became involved in all phases of real estate development, from the design office to site management, and starting in 1990 began to orient the business towards development, soon specializing in commercial real estate.
As the business developed rapidly, Éric Duval set up in the Paris region, then created the Imfined network of real estate companies to buy and sell real estate assets. In 1994, the Duval Group created a holding company under the name Groupe Financière Duval with the objective of positioning each of its companies, leaders in their respective markets.
In 1996, Éric Duval created CFA, a company dedicated to the real estate development of the Duval Group. This multi-product developer business has gradually been rolled out in France's many regions and major real estate markets: commercial facilities, commercial real estate, housing in blocks and specialized residences as well as public facilities.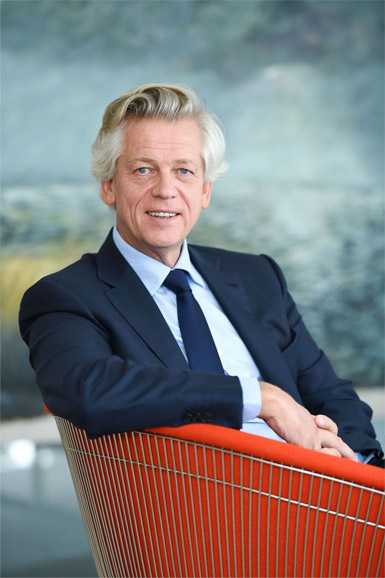 The 2000s: development of the business portfolio
The founder then expanded the Group's businesses and created Alamo for project management, which supports not only the Group, but also private and public clients in managing and adding value to their construction and renovation-restructuring projects.
Éric Duval also added operations to his real estate business sectors. He acquired Odalys, a newly-created structure that at the time operated 8,000 beds in tourist residences. Managed by Laurent Dusollier, Odalys now has 130,000 beds in 400 residences and hosts 2.3 million holidaymakers each year. Odalys has grown to become the second largest European player in tourist residences and is currently developing business and student residences.
In 2005, Eric Duval created Residalya, specialising in nursing homes for the elderly and end-of-life support. Residalya was sold to AVH in 2015 with 2,000 beds in 27 residences.
In 2009, Éric Duval acquired UGolf, a company that then operated 13 golf courses. Led by Pierre-André Uhlen, it is today the golf course leader in Europe, operating 65 golf courses across the country and managing Le Club, the world's leading network of nearly 1,000 international golf courses.
Odalys residence, Chamonix (74)

Golf du Château de Cély (77)

Office project by Alamo, Nantes (44)
Since 2010: internationalization of the Group and diversification of its activities
The Duval Group first established itself in Africa, particularly in French-speaking West Africa and a part of Central Africa, in the real estate, drilling, operations development and major public-private partnership project sectors. Groupe Duval is currently also involved in highly technical water drilling in West African markets.
The Seefar subsidiary, created in 2012 by Christophe Clamageran and Éric Duval, specialises in the management of real estate assets on behalf of third parties, and acts in particular for the investor KKR. The company is AMF-approved.
In the same year, Éric Duval acquired Patrimoine & Commerce. Listed on Euronext in Paris and managed by Matthieu Gueugnier, Patrimoine & Commerce owns and operates a portfolio of real estate assets consisting mainly of recent retail properties. Patrimoine & Commerce has become the leading French property company for low-cost retail parks.
In 2013, Eric Duval developed Terr'Asia, enabling the Group to offer high-end rice from Cambodia to the world market. To that end, Éric Duval created the trading company Pelegrina, specialized in the supply and sale of agricultural raw materials, and PanAsia Impex, distributor on the European food market.
Éric Duval began exploring new businesses and, in 2015, added a new subsidiary, Happy Senior, a new business model of the Silver Economy. Happy Senior designs, builds and manages non-medical senior service residences located in city centres. These latest generation residences offer a range of services, spacious and pleasant accommodation, while benefiting from a high quality of services

African Drilling

Happy Senior Residence, Marseille (13)

Commercial development, La Madeleine (59)
Today: the Group confirms its long-term positioning
The following year, Éric Duval created Eurival, an investment vehicle, then, together with Caisses d'Epargne, the Valmi I and Valmi II funds. These two vehicles target medium-term performance and a regular return through a portfolio of selected real estate assets mainly for retail use in all regions of metropolitan France.
At the end of 2017, Éric Duval acquired L'Atelier du Poissonnier, a Normandy-based seafood processing and trading company. Passionate about the company, Éric Duval sought to support its development in order to share fresh, artisanal and local products with consumers.
2018 was a year of investment for the Group: attractive, high value-added projects, high-performance IT systems and new talent. 2018 also confirmed the Group's business model and its long-term positioning in its various businesses.
The business synergies developed between the various entities have enabled the Group to achieve stable economic and financial performance. This performance, despite a complex economic context, demonstrates the soundness and relevance of its business model, strength of its ambitions in each of its business lines and its high operational standards.

L'Atelier du Poissonnier boutique, Agon-Coutainville (50)

Maison du Peuple, Clichy (92)

New Basin, Mulhouse (68)